About Bajic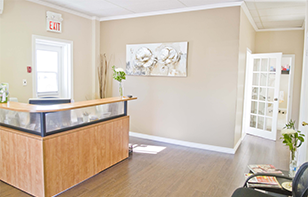 Bajic Denture Clinic is a team of certified dental professionals dedicated to providing the highest quality care to our patients.  We believe that good eating habits and a healthy diet should not be compromised by missing teeth and/or an inability to properly and comfortably chew and swallow certain types of foods.
Our state-of-the-art clinic in Midland, Ontario uses the latest and most advanced technology and techniques to make custom dentures that fit securely, function flawlessly, and convey a confident, whiter smile too.
Extensive Professional Services to Provide the Right Solution
In addition to their main function of improving the ability to chew, your dentures should feel comfortable and have a natural look/appearance – the fact that you are wearing dentures should not be noticeable to others through any or all of the following:

Choice of Foods

Pronunciation of Certain Words

Social Interactions
Bajic Denture Clinic offers a complete range of dentures services extending from personal consultations about your lifestyle preferences to the collaboration with your dentist or oral surgeon to define and develop the right solution to meet your precise needs.
The full extent of our Bajic services includes:
full dentures – to provide optimal function and re-instill confidence
removable partial dentures – helps appearance, chewing, clarity of speech
implant retained dentures – more stable and long-term restorations
immediate dentures – new teeth already in place during the healing period
teeth in one day – teeth extractions plus new implants in the same visit
rebasing, relining, or repairing – when denture replacement is not needed
mouth guards – to protect teeth, lips, tongue, cheeks, and jaw
soft liners – provide comfort and relief for receding gums
regular check-ups – proper maintenance to ensure optimal function
Good health depends in large part on proper nutrition, and quality dentures can play a key role in helping you maintain a well-balanced diet.  To discuss how we can help restore the pleasure and nutritive value that you can derive from your meals, call the Bajic Denture Clinic today at 705-526-4041 or contact us to arrange a no-obligation consultation.