Making Precision Dentures
Requires a Precision Process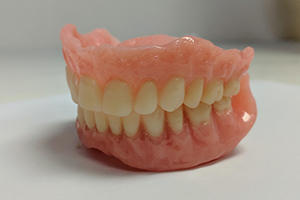 Precision dentures are manufactured using the highest quality materials in conjunction with the latest advancements in technology.  They provide a look, fit, and function that resemble and are analogous to natural teeth.
The manufacturing process for precision dentures is rather extensive and involves a number of appointments to obtain the measurements, impressions, and fittings needed to produce the look and function of natural teeth.
The process is as follows, and its extensiveness in itself reflects why the term 'precision' is associated with these types of dentures:
taking the preliminary impression
creating custom trays from that impression to precisely fit your mouth
these trays lead to a second impression of the gums and surrounding tissues
wax impressions follow to measure your bite and the positioning of your teeth
a special measurement (face-bow transfer) captures your unique bone structure

this device helps to simulate/mimic your natural mouth and jaw movements
this simulation in turn assists in creating a perfect fit with your new dentures

finally, teeth style and shade are chosen to suit your face and your appearance
the new dentures are worn on a trial basis to assess fit/function before final setting
As a means of further ensuring the most natural look possible with your precision dentures, the Bajic Denture Clinic team will customarily ask for older photographs that can be used to comparatively assess your appearance pre-dentures and post-dentures.
Precision Dentures versus Standard Dentures
Although the initial cost will likely be higher, precision dentures offer a number of significant advantages over the more standard type of dentures.  These advantages and benefits will include:
aesthetics – a much more natural look
fit – more accurate and precise to individual bone structure
function – more efficient biting and chewing properties
movement – more fluid/less mechanical in nature
tolerability – less chance of soreness, irritation, infection, etc.
quality of material – much harder; similar to natural teeth
longevity – harder material ensures less wear/a longer lifecycle
Precision dentures can be an ideal option for you and your lifestyle.  For natural-looking and long-lasting dentures made from the finest quality materials, call the Bajic Denture Clinic today at 705-526-4041 or contact us to request a no-obligation consultation on precision dentures and our comprehensive manufacturing process.