A Full-Service Onsite Lab
Within their advertising or promotional campaigns, some businesses will encourage clients to visit their offices or retail locations to either purchase a product or have repair work done on a previously-acquired item.  To many consumers, this may sound like a straight-forward approach – until they are informed during their onsite visit that the product must be ordered or the item must be sent away for repairs.  Not only is such a practice misleading, it can be particularly frustrating to learn after-the-fact that there will be additional and unanticipated wait time before receiving the new or repaired merchandise.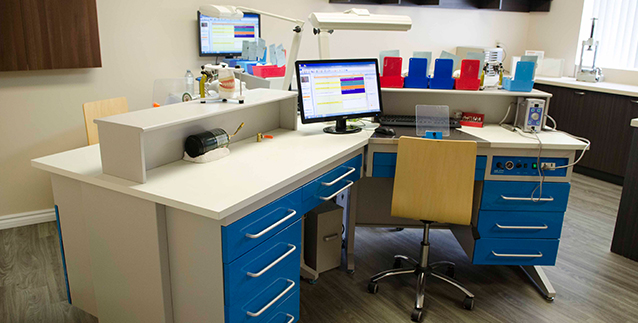 At the Bajic Denture Clinic, we recognize the importance of manufacturing, fitting, and/or repairing your dentures in the shortest possible time, so that you may regain the confidence you expect from properly functioning teeth.  That is why we maintain a full-service onsite lab.
The Benefits of an Onsite Lab
Upon visiting Bajic Denture Clinic, you may only be aware of our reception area as well as our operating and examining rooms.  However, a major portion of our clinic is represented by our onsite lab – this is where all of our products are designed and custom-manufactured for our clients. 
From a simple repair to the creation of new dentures with dental implants, our entire office team works together on your specific case to ensure that you receive a perfect fit with your product, including:
dentures
mouth guards
dental implants
soft liners, etc.
With this collaborative approach, there is substantially less probability of misunderstanding, miscommunication, or error because the dental technicians and denturists remain in regular and frequent consultation throughout the manufacturing process.
There are several other advantages to offering onsite lab services for our clients, including:
overall faster turnaround times
quality workmanship and materials
same-day repairs and relines
immediate denture adjustments
direct access to consultants
centralization of all services
guaranteed satisfaction
Delivering the Highest Quality Products with Minimal Inconvenience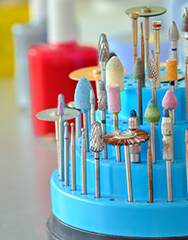 Because our onsite lab is directly and intimately involved in manufacturing or repairing your product, we take great pride in delivering the highest quality workmanship with the shortest wait time and least inconvenience possible.
We also believe that all of our patients deserve our best efforts and nothing less – because life is just that much better and brighter with a confident smile!
For all your denture and related dental product needs, call the Bajic Denture Clinic today at 705-526-4041 or contact us to benefit from the quality products and services provided by our onsite lab.