"To say the least I am a happy customer"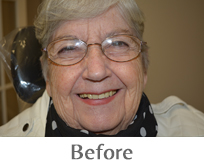 Thank you, thank you, thank you from my smile to Nada and her team at Bajic Denture Clinic. I could not be more pleased with the care I received. From Cindy's cheery smile that greeted me at the door to Nada's expert care as she guided me kindly and professionally throughout the whole process of getting my new dentures. From day one I knew I was in good hands and Cindy even coordinated the appointments with my dentist for extractions etc. My new teeth are just wonderful, they fit so well and for the first time in forty years I an smile with teeth that look like my original ones.
Bernice Patterson
---
"They actually look like real teeth."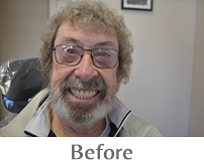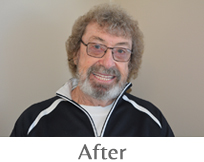 Recently I required new dentures. I went to the Bajic Denture Clinic and was more than pleased at the service I received. Along with a comprehensive explanation of everything it would entail it included a reasonable price. When I received my new dentures I was shocked! I thought my old dentures were OK but when I felt the new dentures I was totally amazed. Not only were they comfortable fitting but were painless. They felt great from the start and I was singing at the Askenonia 2.5 hours later. They no longer look like denures and actually look like real teeth. To add to this was the courtesy and humor of the support staff. I add my special thanks and appreciation to Nada, Cindy and Shelly.
Wayne Ferris
---
"Thank you for changing my life and giving me a chance to smile again."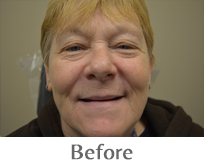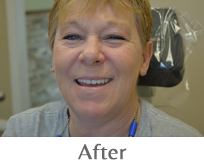 Just a few words to let you know how you have changed my life. Before I met you I was always depressed, felt fat, ugly and did not like myself. Having no teeth is very traumatizing. I would always say to peole I would love to get a part time job and just MAYBE find someone to share my life with. Well I think now there is a chance that my dreams can come true. If I look good and feel good about what I see when I look in the mirror, anything can happen. I LOVE my new smile and it makes me happy to see the difference how my appearance has changed. Like your logo says "Life is too short to go without a smile ", I love my smile.
Having a pretty smile does make a difference. PS: Your staff is very understanding, they make you feel good about yourself. You have a nice office when you go there you feel at home.
Thank you Bajic Denture Clinic
Tammy Fletcher
---
"I am very happy with them."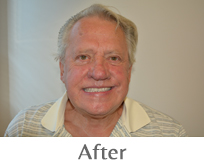 Dear Nada,
Thank you and your staff for the nice dentures you made for me.
Peter Kuhnen
---
"What a Break."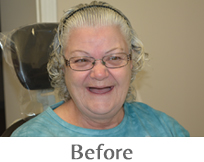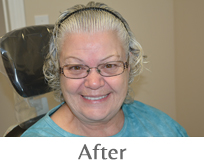 My old pair of teeth are unfixible. I need a new pair, my choice for a Denturist is the office of Nada Bajic. This denture clinic makes you feel as if you are number 1. The atmosphere is calming, you feel welcomed. The music is soft and great, not too loud. They are very friendly. I would recommend this clinic highly. My old smile, you could only see my bottom teeth, but now…WOW
I have a big beautiful smile with teeth like I used to have before dentures for the first time.
Thank you so very much, a big hug to you.
Irene Robitaille
---
"Thank you Nada and great job."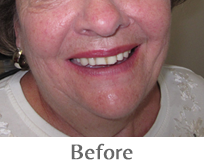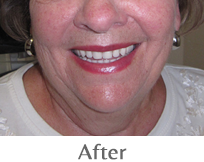 August 2014 – Nada turned the ordinary into extraordinary with her ability to make me feel comfortable in the knowledge that I was in the hands of a professional who cared about my concerns!
I am so pleased.
Ann
---
"A huge thank you goes out to the Bajic Denture Clinic team."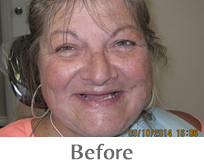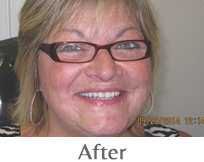 The moment I walked in, I was greeted by the receptionist Cindy, who helped relieve my anxiety. She was able to guide me through the process.
The clinic was and is immaculate and has a calming atmosphere, when honestly my nerves were going haywire.
Upon meeting Nada, she took the time to explain every step and from that moment on, I knew she cared. Getting dentures is no easy experience.
Kirsten the lab technician is an awesome woman, right from my first impressions. She was able to put amazing dentures together and give me a beautiful smile!!
The three of you made a huge difference in my life, not just for my dentures, but also for the support and caring to get me through this life changing experience.
Thank you always,
Cynthia
---
"You will be satisfied as I am, and it doesn't even hurt."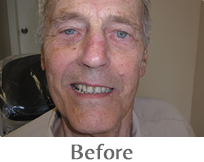 July 2014 – After enjoying free parking, I found a well identified entrance to the clinic, adorned with miniature trees and flowers, providing a welcoming feeling.  When Nada called my name I entered her consulting room which provided a professional atmosphere and I enjoyed the communication with her while she performed her examination.
Kristen (Lab technician), Cindy (receptionist) and Nada provided a pleasant and professional service.
What is particularly impressive is the dedication that this group brings to their patients, dedication in the form of never being satisfied until perfection is achieved, whatever it takes. I am particularly happy that their work is guaranteed for 5 years.
I have personally experienced this dedication and perfection and I wholeheartedly recommend the Bajic Dental Clinic to you.
Wim
---
"A Good Smile, Shows for Miles"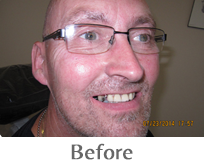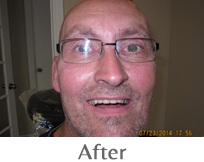 I was recommended to Nada by my wife when I first arrived at the office I was greeted by Cindy who had a very warm receptive personality.
Nada was very kind and professional. She offered me a few options on what steps to take. She mad me feel comfortable, like I had been there before. Once the impressions were done for my dentures, it only took a few visits for her to be sure my dentures were fitted completely and looking amazing.
I was so impressed with the overall experience and feel better about my smile and my new found confidence.
I have already recommended Nada and her team to my friends and family. I have had a lot of compliments on my new smile.
Thank you,
Gord Staunton
---
"My teeth are wonderful, they fit perfectly."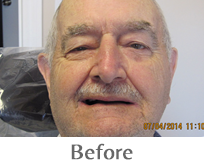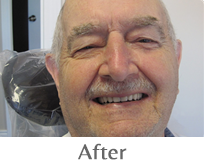 My name is John Harrison and this is my experience in finally deciding new dentures were essential to my good health.
I want to thank everyone at Bajic Denture Clinic for making my dental experience so positive. I love my new teeth and so does everyone who knows about them.
There were so many issues aside from a hole in my upper denture and problems that I had become accustomed to; I hardly realized that my dentures were is such a bad state. My teeth were so worn that my jaw actually was sitting in an unnatural position.
For years, I put off replacing my dentures because of the cost and concern as to whether new dentures would fit properly. I did not realize how worn and misshapen my dentures were until Nada identified the many problems with them.
Now I do not need to worry about their poor condition and the new possibility that they could break or that a tooth could actually fall off.
From the moment I walked into the office and met Cindy the receptionist, I knew that I was in the right place. She introduced me to Nada and we went from there.
Because of the long period of time wearing worn out and damaged dentures and by being out of alignment, four adjustments were required to have them fit properly. Nada and her team were so very patient in making sure that my dentures did fit perfectly. Four adjustments later, my teeth were perfect. Each time I called the office I was into the office within hours. My teeth are wonderful, they fit perfectly. Nada and her team are professionals who go out of their way to help their patients and to ensure a perfect fit.
---
"Life is too good not to smile."
Let Bajic Dental Clinic put smile on your face. The minute you enter the bright, clean and welcoming office you know you are in capable hands. Right away you feel at ease.
Nada is professional and her manner is so calming. She makes sure your dentures fit you and they don't hurt. On my journey to get my smile back I started at Bajic Denture Clinic. Wheel chair accessibility and plenty of parking right at their doorstep.
Linda Marshal
---
"I would recommend Bajic Denture Clinic to everyone in need of their services."
My experience at Bajic Denture Clinic was phenomenal from beggining to the end. Nada and her staff are knowledgeable, friendly and accommodating. Everyone went above and beyond to make me comfortable, answered all my questions and explained the process of creating a denture clearly and throughly. It is very apparent that they are dedicated to their profession, the want their clients happy with results.
Darlene Kerr
---
"From the moment I walked in I felt at home."
The staff made the experience easy and painless and answered all the questions I had and made me feel confident and relaxed throughout.
When the work was complete I was beyond satisfied. Smiling without the constant worry is hard to put into words. And I wish there was way to thank Nada for what she has helped give back to me.
Thanks so much!
Dean
---
"I would highly recommend this clinic to anyone.v
January 2014 – Just a note to say that I am very pleased with my new dentures from this denture clinic. There is always a cheerful atmosphere here.  Nada and the staff here are "top notch" professionals!  Thanks Nada and staff.
Yours truly,
David G. Lang
---
"I will send all my friends and family to your practice."
Dear Nada,
I would like to thank you and your staff for your professional service you provided to me.
I have had several dentures made over the years and I have never been happy until now.
My quality of life has changed drastically to the better.
Thank you again!
Chris Doulas