Dental Implants
Enjoy the Foods You Like to Eat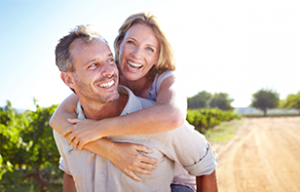 Your teeth are actually very important to your overall health because of the role that they play in biting and chewing food.  Good teeth structure and function will allow you to enjoy a wide-ranging and well-balanced diet, thereby providing the scope of nutrition needed for a healthier lifestyle.
Unfortunately for many people, their diets can become quite restricted, perhaps initially due to the condition of their natural teeth and/or as a subsequent result of dentures that are ill-fitting or timeworn.  By investing in dental implants, denture wearers can once again enjoy the types of foods that they want and like to eat rather than being forced to settle for an inadequate or restrictive range of dietary options.
A Lifetime of Enjoyment from Your Investment
A dental implant is essentially an artificial tooth root that is secured to the jawbone in order to hold a replacement tooth or denture in place.  Dentures that are fixed to/fastened on to dental implants provide the functionality that most closely resembles that of your natural teeth.  The combination of dentures and dental implants can restore the calibre of biting and chewing that you need to enjoy the foods that you like.
In addition, this is the type of investment that can last a lifetime, provided that the implants are correctly integrated with the bone of the jaw by a certified denturist at Bajic Denture Clinic.  When you consider that you will likely consume an average of 1000 meals per year, dental implants can deliver a satisfying return on your investment time and time again.
The Benefits of Dental Implants
In addition to re-establishing a greater degree of flexibility/options in your choice of foods, dental implants offer several additional benefits in terms of enhancing your overall lifestyle, most notably in relation to your:

Comfort

Confidence

Facial Structure
From a more specific standpoint, these benefits may include:
Comfort
strong and stable fit and function – just like your natural teeth
elimination of mouth sores, tissue irritation, or inflamed gums
no more pain or discomfort associated with the act of chewing
regular application of denture adhesive is no longer required
denture care is done in your mouth, not in a cup or a glass
Confidence
ordering what you want when dining out with family, friends, or co-workers
no worries about shifting or clicking when you eat, talk, laugh, sing, or kiss
immediate clarity of speech (no adjustment time as with removable dentures)
long-term reliability – other tooth replacement methods are less predictable
Preservation of Facial Structure
a full set of teeth helps to retain the natural contour or shape of your face
prevents jawbone shrinkage/deterioration (this occurs when teeth are missing)
protects healthy teeth (implants are not attached to/supported by existing teeth)
A Bit About the Process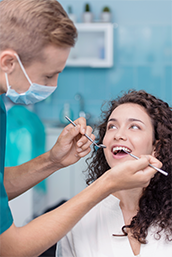 The process of placing dental implants into your jawbone is essentially painless.  The Bajic Denture Clinic works very closely with skilled dental surgeons to ensure that this implant process is also as stress-free as possible.
From the moment you enter our facility until your implant procedure is completed, we make every effort to provide the support, information, and education you will need for a seamless and comfortable experience.
For more information on the steps involved in dental implant procedures and the benefits of these implants to your lifestyle, call the Bajic Denture Clinic today at 705-526-4041 or contact us to schedule a free consultation.