The Soft Liner Alternative for Your Dentures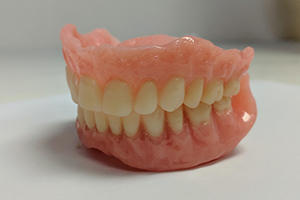 Dentures are a great option for tooth replacement and can provide a natural look and feel for wearers. Some people have a hard time adjusting to the routine of wearing them daily though, and may find that the initial 'foreign' feeling of dentures in their mouth never quite goes away. If you find your dentures uncomfortable or are looking for adjustments to be made, consider the soft liner alternative.
The team at Bajic Dentures can help you determine if this is a good option for your particular set of dentures and oral health concerns. Our team of experienced denturists can ensure your dentures look, feel and fit how you want them to while ensuring longevity and functionality. Visit our Midland denturists for personalized care and read below to learn more about how soft liners could help you enjoy wearing your dentures.
What Are Soft Liners for Dentures?
Not sure what soft liners are or how they could improve the way your dentures feel? Here are the basics about soft lined dentures:
Permanent Soft Liners: Soft liners are more common for temporary use, but permanent options exist for optimum comfort. They can be worn for several years and incorporate a long-lasting cushion-like material to the set of dentures.
Suitable Dentures: Soft liners are best suited to the bottom jaw and are advised most often for patients with extra sensitivity in the gums or those who suffer from jawbone deterioration. They cannot be brushed and require that time is allocated for properly cleaning and soaking the dentures.
Benefits: Soft lined dentures can provide a more comfortable experience. They can help denture wearers chew food with confidence and ease. They can also allow dentures to sit in your mouth with a more natural and less noticeable sensation.
Existing Dentures: If you just invested in a new set of full or partial dentures but find something isn't quite right, you're in luck. In addition to fitting adjustments and follow-up care, the team of professionals at Bajic Dentures can also add soft liners to your existing dentures. Increase the comfort of your new, old, relined or re-based dentures today.
Visit Bajic Dentures today to learn more about soft liner alternatives and find the best solution to increase the comfort, durability and strength of your dentures. Contact us today to tell us about your denture troubles and allow us to determine the proper solution for your needs, lifestyle and budget.
Bajic Dentures can provide soft liners for your dentures. Our denturists offer a range of dental services. Give us a call today at (705) 526-4041 to learn more about your options.