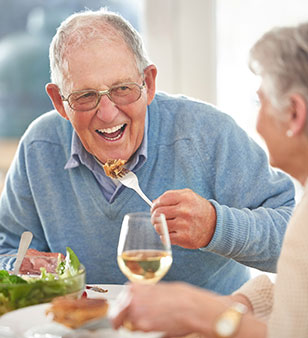 Every denture wearer will tell you that there is an adjustment period to get used to your new set of teeth. The right denturist and attentive care can make this period shorter, but you will definitely notice your dentures for the first few weeks. One of the most noticeable times for people with dentures new and old is during meals. Certain foods can lead to insecurity, anxiety, and concerns. You may feel you have to sacrifice eating some of your favourite foods in order to avoid pain or losing your teeth. Fear not; with a little bit of understanding and regular care from your team of experienced denturists in Midland, you'll be able to sit down for any meal without worrying about the menu.
Bajic Dentures offers a wide variety of dental health services including denture care and dental implants. Whether you need a few teeth replaced, a consultation or a full set of dentures, we can provide custom care and advice. From common denture problems to aesthetic concerns, we have heard it before and are here to help you get the most out of your replacement teeth every day.
Best and Worst Foods to Eat with Dentures
While you won't always have control of what is put on your plate, it can be helpful to identify the foods that are easiest for denture-wearers to chew and those that are the most difficult.
Especially for the first few weeks with your new teeth, keep an eye out for these foods:
Best
Yogurt: Soft, filling, and refreshing with very little chewing required, this is a great food to stock up on when you first get your dentures.
Cooked vegetables: While raw veggies can be painful to munch and crunch on, cooked alternatives can be part of a healthy and easy to eat meal.
Hummus: Opt for non-sticky spreads like hummus or tapenade for your toast and crackers and skip sticky nut butters that can lead to adhesive troubles. 
Worst
Popcorn: Hard kernels and food particles can get trapped between your dentures and gums quite easily and lead to problems.
Steak: Tough steak can shift your dentures, leading to fit trouble and destabilization in your mouth.
Nuts: This crunchy snack can wreak havoc and leave behind an abundance of food particles.
Coffee: While the caffeine might give you a boost, it will dehydrate you and limit the development of saliva. If you can't imagine giving up your java fix, drink ample water alongside your morning coffee or tea.  
Tips for Easier Eating with Dentures
Consider these tips as you continue to add foods back into your diet and gain confidence chewing with your dentures:
Use your knife: Cut your food into smaller, bite sized portions to take on tough textures with more ease.
Get a blender: Raw fruits and vegetables are an important source of nutrients and fibre, but they can be tough to eat even for people who have had their dentures for years. Consider investing in a quality blender to make tasty smoothies that pack all your favourite fruits and vegetables (and even those nut butters) into a tasty drink.
Bajic Dentures can answer your questions about denture problems and provide advice, care and guidance through every stage of tooth replacement. From deciding between dentures and dental implants to learning the ins and outs of your new teeth and providing proper maintenance, we are here to support your dental health. Contact us today to learn more about making meal times easier or find out about our range of dental services.
Contact our friendly staff to learn more. Call 705-526-4041 today to book an initial consultation and find the right tooth replacement solution for you.