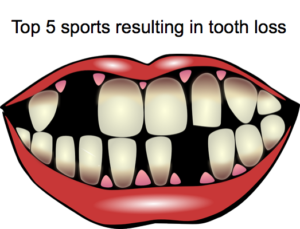 Our youths are permanently at risk for tooth loss as long as they remain active competitors within sport.  Playing sports is part of growing up; they help build chemistry, teamwork, and promote physical activity.  While being involved in sports is a positive for the development of any youth, it does come with risks of getting injured.
One of the most common injuries suffered from sports are lost teeth.  Unfortunately this goes with the territory of physical contact when playing a sport.  Luckily, your involvement in sport does not need to come to a halt because of the great advancements in dental implants and dentures for repairing lost or broken teeth.  
The top sports for tooth loss among our youths include:
Hockey: Almost every player in the NHL has suffered from damaged, or missing teeth.  The high level of physical contact with hockey unfortunately means the odd lost tooth.  Lots of Canadians who play hockey, play it at a recreational level, which means they aren't always wearing the proper equipment. Getting a puck, a stick, or an elbow to the face is very common and can lead to tooth loss.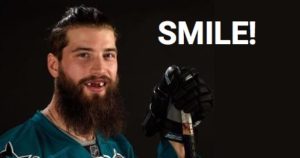 Baseball: Many kids join baseball leagues when they are young, and continue to play in recreational leagues well into their adulthood.  If you aren't alert and always on guard with baseball, you might just receive a ball to the face traveling at 100 MPH. If this occurs, it can knock out more than just one tooth.
Soccer: Another sport which kids get involved with early is Soccer, and the danger for tooth loss is real with this sport too, although a bit less common than Hockey or Baseball.  Bodies collide in soccer and your mouth can be struck by elbows, knees, shoulders, or even feet when going for the ball.
Basketball:  Another sport with a high level of contact and activity.  If you've ever played a game of basketball, you've probably experienced an errant pass, or unpredictable bounce from a rebound to the face.  These factors, along with the physical contact of being struck by an elbow or a shoulder, can lead to lost teeth.  
Boxing/MMA: While not as popular as the above listed sports, boxing and MMA (mixed martial arts) can be a major threat to the health of your head, face, and mouth.  Direct punches and kicks can lead to a knocked out tooth in the blink of an eye.  With the emergence of MMA, more youths are getting involved in this aggressive sport and should take precautions.
We shouldn't let our fear of getting injured prevent us from participating in sports, but we do need to be careful.  The number one preventative measure in protecting your teeth in sport is wearing the proper safety equipment.  Whether that be a protective mask on your helmet, or a custom fitted mouth guard, investing in safety equipment is smart and proactive for preventing future injuries.
If you have lost a tooth from a sporting incident, consult the denturists at Bajic Dentures so we can determine the best solution on how to approach the situation.  We have a wide variety of dental services which can help restore your smile!
Book an appointment or call our friendly staff, and they can answer any denture related question at Basic Dentures phone:
(705) 526-4041
for all your dental care related questions.
You can also send us a message through our online form. Click here.