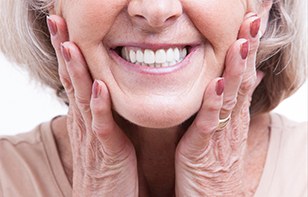 Full dentures are a fantastic option for a real-looking, complete, and comfortable smile. If you are missing teeth or require procedures that will leave you without your pearly whites, full dentures provide a natural look and feel to keep you smiling. These removable appliances make it easy to continue speaking and eating as you did with your full set of teeth and can be customized to look like your natural smile.
There are different types of dentures and the one that is right for you will be determined based on your existing oral health and unique needs. The team at Bajic Dentures is committed to providing you with comprehensive care that takes into account your lifestyle, budget, and concerns while prioritizing your oral health. We want you to feel confident with your choices and the dentures you receive, so we take pride in getting to know our clients' needs.
Types of Full Dentures
There are two types of full dentures which can provide you with the appearance of natural teeth and the comfort to continue speaking, eating, and living your life as you normally would. The main difference between the two is the time when they are created and inserted.
Immediate dentures: Aptly named, these dentures are created before teeth are removed by measuring and modelling your jaw during your first visit to the dentist. Once your teeth are extracted, your new dentures will be inserted. You will not be without teeth during the healing process, but these dentures may have to be re-fitted once your gums and bones have healed. The healing process often results in shrinking, resulting in the need for realigning your dentures.
Conventional dentures: Once fully healed from the extraction procedure, your mouth will be measured and dentures will be created and inserted. There will be a brief period where you do not have teeth, but the dentures created are more likely to fit and align properly with your healed mouth.
Advantages of Full Dentures
Dentures provide many advantages and are a great option to consider for tooth replacement. Benefits of full dentures include:
Realistic look. The shape, size, orientation and colour of your teeth can be replicated. Rest assured, no one will be wondering whether your teeth are your own!
The perfect smile. Whether you want a straighter, brighter smile or want your new dentures to go unnoticed, our team can help you get the natural look you want.
Customized look and fit. We can customize your full dentures so that they look exactly how you want them to, giving you confidence and a youthful appearance as you smile wide.
Easy dental care. No more worrying about tooth decay or cavities! While you won't be able to forego your oral hygiene routine, your dentures are easy to care for and simply require rinsing and brushing (along with your mouth) to keep them fresh and free of debris and bacteria.
Comfort. Myths about full dentures being uncomfortable are untrue, especially when you receive denture services at Bajic Dentures. With experienced professionals who can identify sensitive areas and provide follow-up care, you will forget you're even wearing dentures!
Confidence. With full denture services, you can rest assured you are getting the best care and the best dentures possible. You will be able to return to your normal lifestyle and activities without worrying about loose dentures or other issues. After a brief period to get used to your new teeth, you'll be back to your old self with an improved and healthier smile.
Bajic Dentures can give you the beautiful and healthy smile you have always dreamed of with a full set of dentures. Don't let old misconceptions or outdated concerns keep you from having the smile you deserve. With years of experience and the latest technology, our team can provide you with customized dentures and the highest quality follow-up care.
If you are looking for expert Full Denture Services, trust the professionals at Bajic Dentures. Call us at (705) 526-4041.