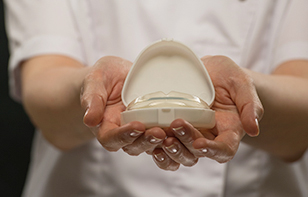 Many people only think of mouth guards to protect their teeth during high-impact sports, but did you know they can also protect your teeth from nighttime grinding and help relieve snoring? If you or your loved one experience discomfort or tooth damage from grinding teeth or clenching the jaw while sleeping, a mouth guard may be the solution. Snoring mouth guards can also help adjust nighttime breathing patterns to offer a more quiet and restful sleep for the entire family. Contact Bajic Dentures to learn more about mouth guard options that may be right for you, or to learn more about mouth guard maintenance for your existing appliance. We want to help you protect your teeth and have a better night's sleep.
How to Care for Your Mouth guard
Your mouth guard offers a lot of benefits but it's important to keep it clean so that it doesn't cause you other oral hygiene issues. Here are some mouth guard maintenance tips to keep your mouth guard in the best shape possible:
Rinse in the AM. After using your mouth guard, be sure to rinse it thoroughly with cool water once you wake up in the morning.
Brush it down. Use your toothbrush to give your mouth guard a more thorough cleaning. Skip the toothpaste to increase its longevity, since it can be abrasive.
Let it dry. Try not to leave your mouth guard wet, which can lead to bacterial growth and cause you oral health problems. After rinsing it in the morning, allow it to dry on a clean surface before storing. This usually takes 15-30 minutes.
Clean thoroughly once a week. Whether you prefer to maintain a regular schedule or tackle tasks as they come to mind, remember to give your sleeping mouth guard a deep cleaning at least once a week. You have the option to use over-the-counter denture cleaner, a mixture of vinegar and hydrogen peroxide, or mouthwash and water. Whichever option is right for you, be sure not to leave your mouth guard soaking in a cleaning substance for longer than one hour. Extended soaking can lead to damage rather than disinfecting.
Use a case. Store your mouth guard in a case in order to protect it during the day. It is recommended to store it outside the bathroom, even if it seems like a convenient spot to leave it. Steam and humidity from the shower can cause your mouth guard to warp, leading to costly repairs. Instead, keep it on your nightstand or in the bedroom. Remember to also clean your case frequently.
Bajic Dentures has a team of professionals that are ready to help you with mouth guard, oral health and denture services. We offer high quality denture services and follow up care and are committed to giving you the best smile. Feel free to call us with your questions about mouth guards, dentures or your dental health.
Follow these tips from Bajic Dentures to keep your night mouth guard clean, comfortable and effective. Call us at (705) 526-4041 for any additional Denture Services.