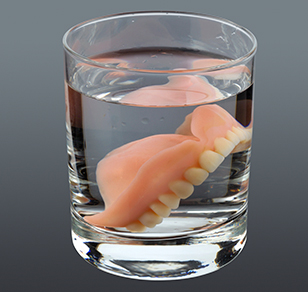 It can be easy to take your dentures for granted. Without nerve endings and the risk of cavities, oral hygiene can start to lose its importance in the mind of many denture-users. Don't let it happen to you. If you have a new set of dentures or have been wearing them for years, keeping them clean and practicing a good oral hygiene routine will help maintain your artificial teeth and support your overall health.
If you have questions or concerns about caring for your dentures, read on for helpful tips or contact Bajic Dentures in Midland to learn more. We want to support your oral health and keep you smiling for years to come.
How to Properly Clean and Care for Your Dentures
Practicing good denture care will keep your new teeth in the best condition possible for a longer period of time. It will also help you avoid oral health problems such as bad breath and gum disease. Here are some denture care tips to keep your mouth healthy:
Rinse them. After eating, it is very important that you rinse your dentures to remove any leftover food particles or debris. If these substances get caught under your dentures, they can irritate your gums and cause oral health problems.
Soak your dentures. Put your dentures in warm water overnight if they have metal clasps, or in a solution of half-vinegar and half-water if they don't have metal clasps. This will help remove plaque and tartar buildup, as well as bacteria and reduce staining.
Clean dentures daily. Treat them like real teeth, but use a soft-bristled brush and mildly abrasive toothpaste. This will eliminate the buildup of plaque and bacteria which can cause bad breath, or worse, could lead to an infection in your mouth.
Drink lots of water. Many people experience dry mouth as a result of other medications or adjusting to the presence of dentures in your mouth. If you suffer from this, drink plenty of water and other fluids throughout the day to keep your dentures clean and mouth moist.  
Clean your mouth. Just because you are missing some or all of your teeth doesn't mean you should throw away your toothbrush. Continue to brush and floss any remaining teeth daily and take care of your gums. Use a washcloth or soft toothbrush to rinse and massage your gums.
The professionals at Bajic Dentures are here to help you. From initial consultations, implants to follow-up care, we provide high quality denture services. Our friendly and experienced team will make it possible for you to show the world your best smile and care for it properly.
Maintaining good oral health and taking care of your dentures are crucial for many reasons. Check out our online resources to learn more or call Bajic Dentures at (705) 526-4041.