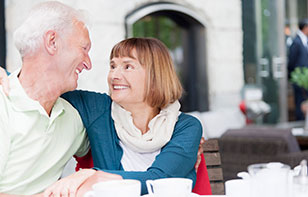 Whether you have just started using your first pair of dentures or have been told you will need to wear them in the near future, there is a whole new world of products and oral care habits to get used to. Denture adhesive is a small part of this domain that can make a big difference in the fit and function of your dentures. There are different types of adhesives, and the most popular options include pads to pastes. Comfort and stability are the most important factors to ensure your dentures fit and function like your natural teeth. The right adhesive can allow you to live your day-to-day life with confidence that there won't be any slipping, pinching or other discomfort while you are eating, speaking and laughing.
Bajic Dentures can help you determine the right denture adhesive for repair or daily use that suits your unique mouth, oral health concerns, and dentures. Our friendly team offers personalized advice and denture services from your initial consultation to fittings and repairs down the road. Our Barrie denturists can provide information about adhesives and answers to your other questions about dentures, denture products and care. Contact us today to learn more about our dental services and book your appointment.
Common Denture Adhesive Problems
When choosing the right denture adhesive, keep in mind these common problems. Whether one of the following sounds like your experience with dentures or you are looking for your first adhesive, there's a product out there that can meet your needs:
Zinc: Some denture adhesives contain zinc, which can lead to health problems if your body is exposed to a large amount for too long. If you are taking other zinc supplements or have a diet that is rich in this mineral, nerve damage in the hands and feet could develop. Inquire about specific adhesives to learn more.
Cleaning: You want the adhesive to be strong, but that binding power can sometimes lead to difficulty cleaning your dentures or gums. Thorough, daily cleaning is not to be overlooked.
Tips for Buying and Using Denture Adhesive Tips
Use these handy tips to ensure your dentures fit properly and stay clean:
Don't use too much product: Zinc troubles arise with overexposure, so carefully follow the label of your adhesive packaging for proper application. Less products means less zinc and less risk of developing issues. Ask your denturist if you are unsure about what the 'right' amount looks like.
Use proper cleaning agents: Adhesive residue can lead to a buildup, fit issues, and discomfort over time. Ensure it all gets removed by using the proper soaking and cleaning agents each night. Don't forget about cleaning your gums and oral tissue, where residue can also hide.
Be consistent: Many people find that their dentures fit well enough to skip adhesive, but the material can make a big difference in increasing your level of comfort and keeping food particles from getting trapped underneath dentures. Give it a try and experiment with different products to see the difference.
Contact Bajic Dentures to learn more about finding the right denture adhesive for your needs. From dental implants to partial dentures, and more, we can recommend the tooth replacement solution and maintenance routine that will keep your smile big, bright and full for years to come. Contact us today to learn more about our wide range of services.
Call our denturists in Midland today at 705-526-4041 to book an appointment or find out more about denture repair adhesive.