It is a frequent dilemma that comes to mind when it comes to replacing dentures. Many people do not know whether they should trust a dentist or a denturist for this difficult and demanding task. Let's find out what both these professionals are about, before concluding as to the best option for dentures.
Dentist vs. Denturist: Which One Is the Best for You?
A dentist is a qualified health care practitioner specialized in the field of teeth. She can perform surgeries after diagnosing an issue with the patient's teeth, while she is the professional who will repair the cavity and allow room for the dentures to be replaced.
A denturist is a certified dental technician who is focused on the denture placement process in detail. Although the denturist cannot diagnose any other dental issues, she is the most suitable professional to deal with dentures in the first place.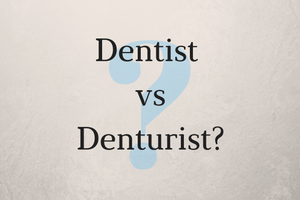 As you can see, both these professionals work in the same field but specialize in different aspects. The dentist is more of a doctor who has got deep knowledge of dental care and can proceed with various medical procedures. The denturist is specialized in more practical procedures and can offer a personalized approach to dental care.
Why Not Use Both?
It is far better for you to use both a dentist and a denturist. In this way, you will enjoy the comprehensive knowledge of the dentist, as far as dental care is concerned. He will be able to identify any additional dental problems that require imminent attention. As a result, you can be sure that the denture is replaced in a perfectly safe environment without any risk of infection.
The denturist, on the other hand, will help you out as a specialist in his field. She will prepare the oral cavity and make all the necessary arrangements, so as to allow the dentures to be placed perfectly. Without her expertise, you will not be expected to enjoy the same level of satisfaction and the optimum level of performance.

So working together, these professionals will certainly raise the bar of expectations and relieve you from any worries you may have as to the successful replacement of dentures. If you truly wish to keep your mind at peace, it would be great to proceed with both these professionals by your side.
Are you still not sure if your particular issue requires a Dentist or a Denturist?
Book an appointment or call our friendly staff, and they can answer any denture related question at Basic Dentures phone:
(705) 526-4041
for all your dental care related questions.
You can also send us a message through our online form. Click here.