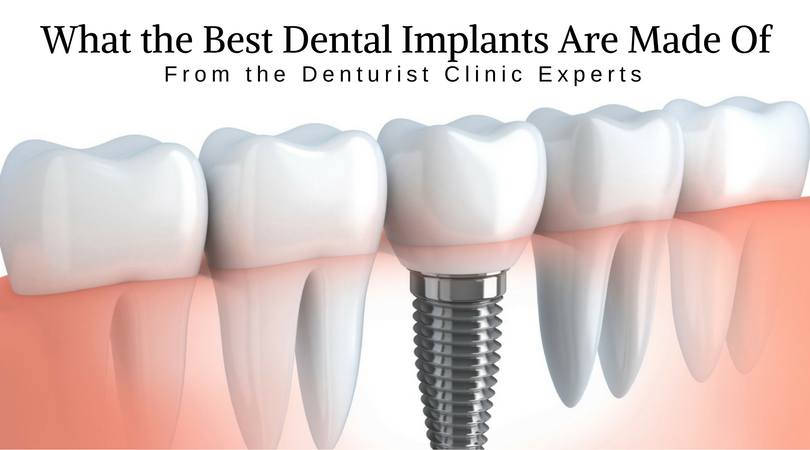 What the Best Dental Implants are Made Of: From the Denturist Clinic Experts
Dental implants are replacement tooth roots placed either within the jawbone or set on a bridge to replace a lost tooth. Teeth can be lost for numerous reasons such as periodontal disease or injury, and you should not be left without a tooth in its place.
Endosteal dental implants are the most common implant used, especially in those with bridges and dentures already. They use screws or cylinders placed into the jaw that holds one or more replacement teeth. 
Subperiosteal is a dental implant placed on the jawbone for those that have minimal bone height or cannot wear conventional dentures. The implant framework is on the jawbone, and the post comes through the gum line where the prosthesis is held.
Dental Implant Materials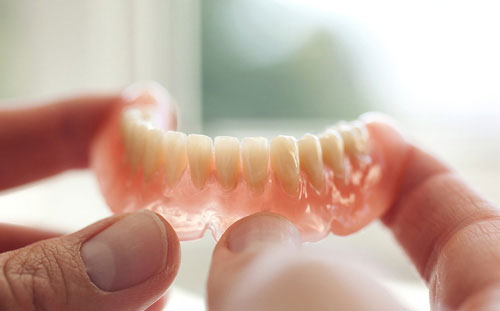 There are a few different types of dental implant materials that have been used over the years. The first material used was titanium, and it was found that it would fuse with bone if left undisturbed. Pure titanium proved to be too soft of a material, so they created a titanium alloy, which is much stronger and of better fit for dental implants.
There was a time when vitreous carbon was used that proved to fuse well with the jawbone, but unfortunately, that also was too soft of a material for denturist clinics to use as a replacement. Zirconium oxide is the metal-free version used today for those that are sensitive to metal alloys, as an alternative for dental implants. It is just as durable and considered to be a ceramic, which is hard and very strong. It has also been used for bridges and crowns and also has been found to fuse to bone.
Most Popular Dental Implant Materials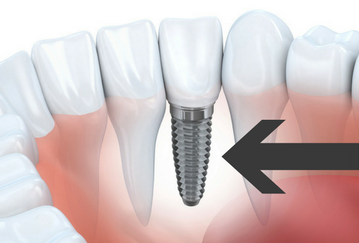 Titanium 
The most popular dental implant material today is titanium because of the strength and durability of the material. It also allows for the denturist clinic to perform either a single or double piece replacement.
Zirconium
Zirconium dental implants only allow for a single piece replacement, and it requires the teeth be cemented to the frame or post and most times this material is used when the option for titanium is out.
We believe that life is too good to live without a great smile and we can provide you with the best care and support for all your dental implants and denture needs.
Book an appointment or call our friendly staff, and they can answer any denture related question at Basic Dentures phone:
(705) 526-4041
for all your dental care related questions.
You can also send us a message through our online form. Click here.