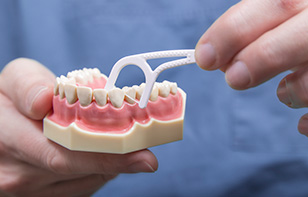 Dentures require a consistent oral hygiene routine to maintain their appearance, function… and smell. Even denture wearers who are dedicated to thoroughly cleaning their oral appliance each night can face halitosis, also referred to as bad breath. Not sure if your dentures have developed an odour? You can perform a simple test to determine the answer. Seal your dentures in a sandwich bag for five minutes. Open the bag and give it a whiff. The odour will be the same as your breath, so if it is unpleasant, it is time to find a solution. Contact Bajic Dentures for your denture care needs. We offer advice and denture services for everything from stubborn odours to fitting adjustments.
Causes of Bad Breath and Other Denture Problems
Not sure how or when your bad breath developed? These are some common factors that contribute to halitosis:
Diet: The usual culprits include coffee, onions and garlic, but other foods can also cause odours when they are digested.
Dry mouth: One side-effect of many medications is dry mouth, which can limit saliva production that contributes to a clean mouth. Saliva kills bacteria, so when there isn't enough being produced, your mouth can become a breeding ground for bad bacteria and unpleasant smells.
Bacteria: It's important to remember that odours in the mouth are primarily due to bacteria. These smelly organisms grow fast and multiply, so keeping teeth and gums clean is important to limit their development.
Solutions for Eliminating Denture Odours
Consistent cleaning: It usually isn't the most exciting part of your day, but taking the time to thoroughly clean your dentures every day is crucial to keeping them smelling fresh and looking great. Clean them outside of your mouth and use a cleaning solution that is made for your particular type of dentures. Ask the team at Bajic Dentures if you need advice finding a new cleaner.
Soak them: Soak your dentures each and every night. Not only will leaving them dry make them more likely to warp, crack and dry out, but it will also give bacteria an entire night to form and multiply.
Get fitted: Turning to our friendly team of denturists will ensure that your set fits properly. Less gaps mean less spaces for bacteria to develop. A proper fit will also limit the discomfort and damage to oral tissues, which can lead to sores and more bacteria formation.
Get adjustments: One initial fitting is not enough. While your dentures may fit nicely at first, this can change over time as your oral tissues and bone structure heal and transform. Contact Bajic Dentures to set up regular maintenance and adjustment appointments so that your dentures continue to fit as well as they did on day one.  
Bajic Dentures offers affordable and efficient denture services that cover everything from initial consultations to customized advice for your bad breath or other oral health concerns. Contact our friendly staff today to book your appointment or get solutions for your denture problems. Let us help you find and maintain the right tooth replacement option for you, including reliable implants and dentures.  
Contact us today to eliminate your denture odours once and for all. Call 705-526-4041 to schedule your appointment for professional denture services in Midland.