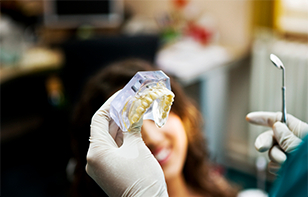 Have you ever arrived at a destination – work, church, a restaurant – only to then learn that you have forgotten your watch, wallet, or purse?  Do you remember that sinking feeling or moment of panic until you recalled that the item you forgot is sitting on a table at home?
These are the types of items that are routinely kept or left in the same place every day and which we take with us, almost subconsciously, virtually everywhere we go – this is why we have that momentary rush of anxiety when the items are "not where they are supposed to be" when we reach for them.
Although this is admittedly a stretch from the above examples, the same might be said for your teeth.  You essentially take them with you everywhere you go and you expect them to be there when you need them.  So, just imagine the feeling when you do not have your teeth, even for a brief time, and how uncomfortable and frustrating that might be when you want to eat or simply talk with someone.
Well, if it has been recommended that all of your teeth should be or need to be extracted, any feelings of discomfort, frustration, and perhaps some self-imposed embarrassment, can be avoided by pursuing the option of teeth-in-a-day – the insertion of new dentures on the same day that your teeth are extracted.
Teeth in a Day plus Dental Implants Offers Several Benefits
At the time of the extractions, and while remaining in the dental chair, you will receive a full set of dentures – these will be secured in your mouth by attaching them to dental implants that are inserted first after your natural teeth have been removed.
Further to the basic benefit of having new teeth in place immediately, the teeth-in-a-day option provides a number of additional advantages.  These include:
an appearance that parallels the look of your natural teeth
protection of the gums during the post-extraction healing period
fewer office visits required than with other denture procedures
replacement teeth that function (chew, bite, smile) like natural teeth
It should be noted that the procedure of teeth-in-a-day with dental implants can also be done for those who are currently wearing dentures but who may be experiencing discomfort and/or a decline in functionality due:
normal wear-and-tear
loosely-fitting dentures
shrinkage of tissues/gums
weight loss post-dentures
If it has been recommended that your natural teeth be extracted in favour of dentures, or if you are experiencing discomfort or frustration with your current dentures, teeth-in-a-day may be the right solution.  Call the Bajic Denture Clinic team today at 705-526-4041 or contact us to schedule a no-obligation appointment.