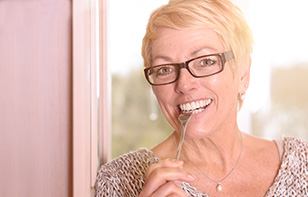 If you find yourself in need of a tooth replacement solution, the options can seem overwhelming. Advice from friends, prior misconceptions, and anxieties about visiting the dentist can all combine to turn a straightforward process into something confusing and even frightening. Ready to find the right type of dentures or other tooth replacement option for you? The team of experienced professionals at Bajic Dentures can help you choose the perfect solution for your lifestyle, budget and oral health requirements. Don't let the variety of available options intimidate you. Instead, start looking forward to the prospect of healthy, new and beautiful teeth.
Bajic Dentures has a friendly team of dental healthcare providers who offer comprehensive denture services and personalized advice for patients. From initial selection, fittings and adjustments, we have your smile covered. Whether you are interested in implants or need a new crown, we can offer new teeth and maintenance repairs. Contact us today to learn about the treatments available and to tell us more about your unique denture concerns.
Pros and Cons of Dentures: Tooth Replacement Options to Consider
Think about these pros and cons when determining if dentures or dental implants are the right solution for your missing teeth. Here are just some of the considerations to think about before making your final decision:
Maintenance: If you have a hard time keeping up with a regular oral hygiene routine, keep in mind that both dentures and implants require maintenance. Dentures need to be soaked and cleaned on a daily basis. Depending on the type of adhesive you use, special cleaning products may be required. Talk to your denturist about your realistic oral hygiene habits so your investment does not go to waste.
Bone loss: Implants require enough bone density in the jaw in order to graft, heal and function effectively. Tooth loss can lead to bone loss and deterioration, and some denture wearers experience a progression of this which can lead to further adjustments or even a change in appearance.
Cost: Dentures can be more affordable than dental implants, depending on the size of the set and number of teeth that need to be replaced. Implants are permanent though, so this should be taken into account when budgeting.
Function: When dentures are fitted properly by experienced denturists, they will be comfortable in your mouth and create a seamless eating and speaking experience for wearers. There will be an initial adjustment period, but functionality should not be a major concern. Once healed, implants will also provide a natural feeling when chewing and pronouncing words. Both options can be made to match the shape and colour of your natural teeth.
Contact Bajic Dentures for fast and affordable denture service and to ensure you consider every possible option and concern. Let us guide your decision based on your particular needs and our years of experience. Reach us today to discuss your tooth replacement concerns or visit us for quick and reliable repairs to your existing dentures. Whether you are not happy with your current false teeth or you are contemplating the future health of your smile, we can help.
Check out our range of dental services and call now to set up your initial consultation. Give us a call at 705-526-4041 for denture services in Midland.